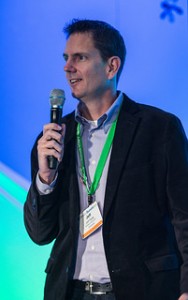 Metaversant's founder, Jeff Potts, has been active in the Alfresco community since 2005, has won a number of Alfresco-related awards for his work in the Alfresco community as well as his popular blog, ECM Architect, and wrote a well-regarded book used by people around the world who need to get ramped up on the Alfresco platform called the Alfresco Developer Guide (Packt, 2008) for which he won Packt's Author of the Year Award. Jeff served as Alfresco's Chief Community Officer from 2011 to 2014. Jeff is also a Certified Alfresco Administrator and a Certified Alfresco Engineer according to Alfresco's formal accreditation program.
Beyond Alfresco, Jeff has been involved in the industry-wide Content Management Interoperability Services (CMIS) standard. Jeff wrote a client-side Python API for CMIS-compliant servers which makes it easy for developers to write application code that can work with content repositories from many different vendors who support the standard such as Microsoft SharePoint, Documentum, FileNet, OpenText, Alfresco, Nuxeo, and many others. Learn more about CMIS and cmislib by reading CMIS and Apache Chemistry in Action (Manning, 2013), which Jeff co-authored, or check out the Introduction to CMIS tutorial on his blog.
Jeff has over 19 years of consulting experience. Prior to founding Metaversant, Jeff was the Senior Director of the ECM practice at Optaros, a well-known open source consultancy based in Boston, Massachusetts. Before that, Jeff was a Vice President at Hitachi Consulting where he led the ECM practice, which, at the time, was primarily focused on Documentum. Jeff joined Hitachi through its acquisition of Navigator Systems, a regional consultancy based in Dallas, which was selected as one of the 50 Best Places to Work in Texas. Jeff was a large part of the award-winning culture at Navigator and strives to instill some of those same values in Metaversant.
Jeff lives in McKinney, Texas, just north of Dallas, with his wife and two kids. On the weekends he can be found spending time outdoors with his family, taking long rides on his recumbent bicycle, and catching as many live music shows as possible in small venues around the metroplex.
PGP Key Fingerprint: FC07 3C9C BA33 2681 1231 49A6 21C8 7AB8 144E 56DF